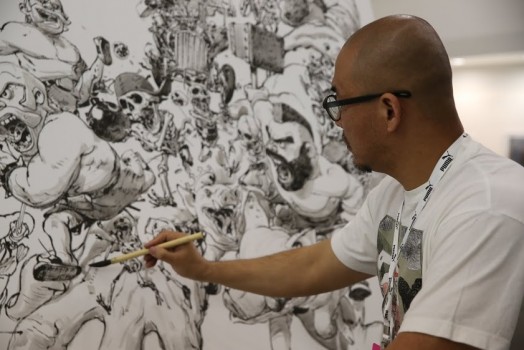 Between 2008 and 2010, he drew the 6 volumes of TLT, Tiger the Long Tail, which was written by Seung-Jin PARK. This story first existed as a 'webtoon' – an online comic, which explains the unusual composition of the pages. TLT was later published in printed form by CNC Revolution. KIM Jung Gi also illustrated 2 novels written by the french author Bernard WERBER : "Paradise" (in 2010) and "Third Humanity" (2013).

KJG published 5 sketchbooks, who came out in 2007, 2011, 2013, 2015 and 2016 respectively. These, gathered all together, contain nearly 3500 pages full of drawings. In 2017, he also published a sketchbook with the Japanese artist Katsuya Terada. He also worked on Spygames, a comic written by famous French writer Jean-David MORVAN (published in 2014 by les Editions Glénat). Another comic he drew was McCurryn NYC, 9/11 , published in 2016 by les Editions Dupuis for the French version, and by Caurette Editions for the English version. The story, also written by JD MORVAN, is about the world famous photographer Steve McCURRY – remember his National Geographic picture with the Afghan Girl ? – as he witnessed the events of 9/11.
He has also worked with several video game companies and collaborated on various comics in the USA (Flash, Civil War II …) or Europe (Kiliwatch, Caurette Editions) as cover artist.

KJG has displayed his work in many countries, galleries (Maghen in Paris, Scott Eder in New York, Murakami Takashi's 'GEISEI x infinity in Japan…) and museums (Penang, Malaysia). He is in the Guinness World Records, in the Illustration category under "Longest drawing by an individual". A record he broke doing Fisheye art!

Nowadays, when he isn't managing AniChanga, which is his drawing school in Seoul, or working for Korean advertising companies, he travels around the world to meet his fans and find inspiration!