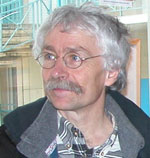 After having published several dark stories and illustrations in fanzines and magazines in the 80's, Michel Jans founded in 1990 the Mosquito Editions with Jean-François Douvry. He published his first book Avant le Crépuscule and started a collection of monographs dedicated to great authors.
In 1944, he published Tranche de savoir vivre, a howlers-anthology inspired by the "manners" famous handbooks of the beginning of the century (illustrated by Franck Margerin).
Then Jans made Chroniques Romaines in 1966 and from this moment he went on creating comic books and started to translate works by Toppi, Battaglia, Micheluzzi and Zezelj for his publishing house.