About the Sketch.Box collection
This is the first volume of the new Sketch.Box collection, an unprecedented and exclusive project that Caurette and Spiridon Giannakis set up together, working with artists to create a collection of sketch books. Each individual book will showcase the talents of one amazing illustrator. This is a rare opportunity and one that we are extremely pleased to announce as a pre-order! Each book will bring joy to art collectors and connoisseurs.
About the book
Our first artist that we are thrilled to present is Abigail Larson, famous for her fantasy and gothic inspired images! If you are familiar with her best selling book, Crimson, then you know you are in for a real treat! Get ready!
Please note: the first 500 buyers will receive an exclusive art print along with their book. (as long as this message is visible, that will be the case. it will self-destruct after the 500th order!)
About the artist
Abigail Larson works primarily with pencil, ink, watercolour, and Photoshop, creating unique mixed-media illustrations. She enjoys the strange and archaic. When she's not drawing, she can likely be found watching re-runs of Dark Shadows, traveling, researching bizarre myths and legends, or spending time with her favourite long-leggedy beasts, ghouls, ghosts, and other things that go bump in the night.
Her greatest inspirations are fairytales, folklore, and ghost stories. The works of Edgar Allan Poe, H.P. Lovecraft, the Brothers Grimm, Shirley Jackson, Angela Carter, and many classic gothic works of fiction, such as Dracula and Frankenstein have always stirred her imagination. Get ready to dive into the delightfully eerie world of artist Abigail Larson!
Known for her unique blend of horror and charm, in this interview Abigail talks about how her love for classic horror movies shaped her distinctive style, and how her upbringing in a world of art and culture influenced her creative path.
With the many insights she shares on how she draws people in her signature style, the professional transition she made from animation to illustration, and the courage to pursue her passion for horror art, this interview will leave you inspired to explore the uncharted depths of your own creativity!
An interview with Abigail! Her unique blend of horror and charm!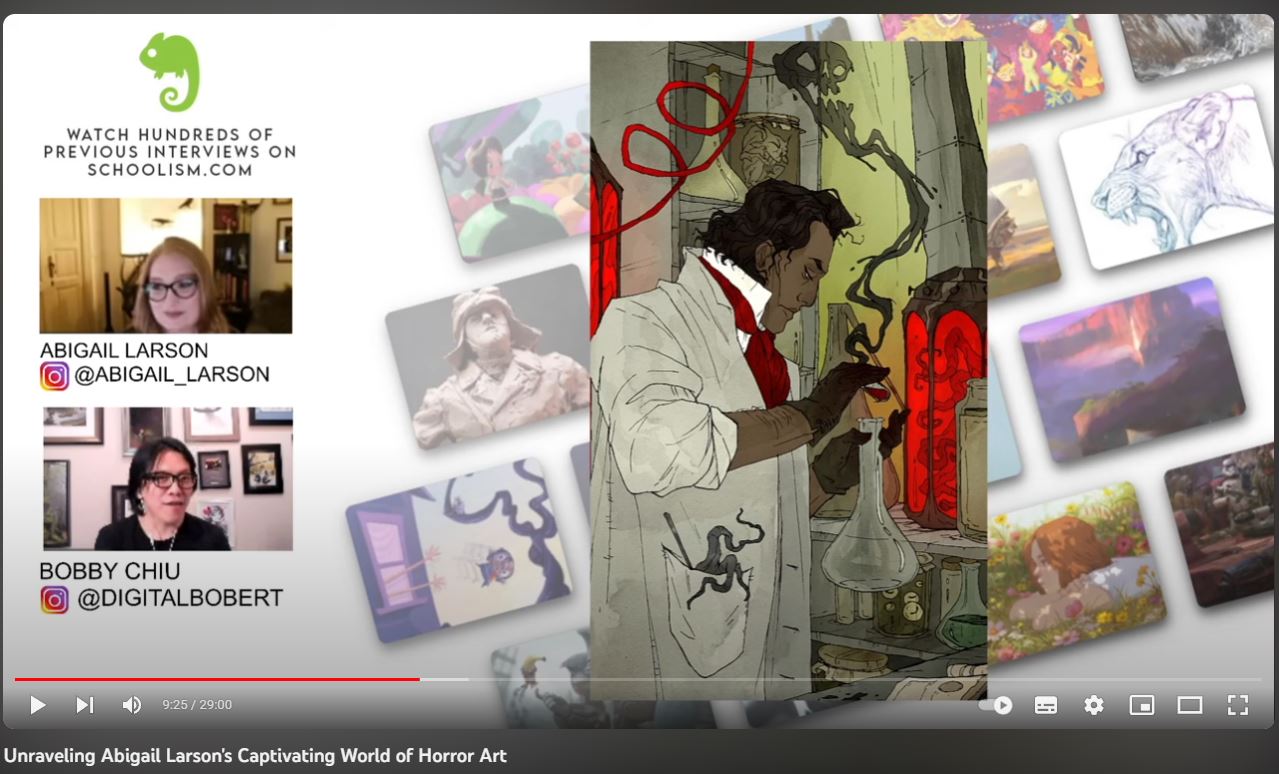 Where to find Abigail Larson online: