Who's the King?
It is 1947, 14 years after the victory of Kong over the US military. Manhattan Island has been evacuated and is now a strictly enforced 'no-go' zone. An elite squadron of pilots has been given the task of keeping watch over Kong's new domain where rumour has it, strange things have started happening…
About the project…
Eric Hérenguel (Krän, Trelawnay, Ulysse 1781…) created The Kong Crew in 2016 and we released the first edition as a black and white 32 page comic at the Angoulême International Comics Festival in January 2018.  We currently publish both the original edition and a hardcover coloured version released by Ankama Editions in October 2019.
The original version in a large format
Eric Hérenguel's black and white pages are… amazing!  It was obvious to us that a luxurious deluxe edition was required in order to give justice to this masterpiece.  Therefore Caurette Editions are pleased to present you with this beautiful large format artist's edition! As a bonus feature we have included the original coloured scans of the first 2  The Kong Crew comics.
Four langages will be available for this special edition: French, English, Spanish and German!
Exclusive bonus
Eric has been heavily involved with The Kong Crew promotional drawings (posters, prints, postcards…) and original illustrations for the past 3 years, and in his spare time, been busy researching and sketching new characters all of which are now gathered into a book for the first time. Believe us, it's incredible!
The layout is not yet complete (we want it perfect!), but we will soon be able to release a stunning book (we expect between 90 and 100 pages).
Obviously, all of the books will be signed and numbered by the artist.
With each book purchase, you will also receive a beautiful triptych (80cm wide) printed on luxury fine paper, as well as other surprises!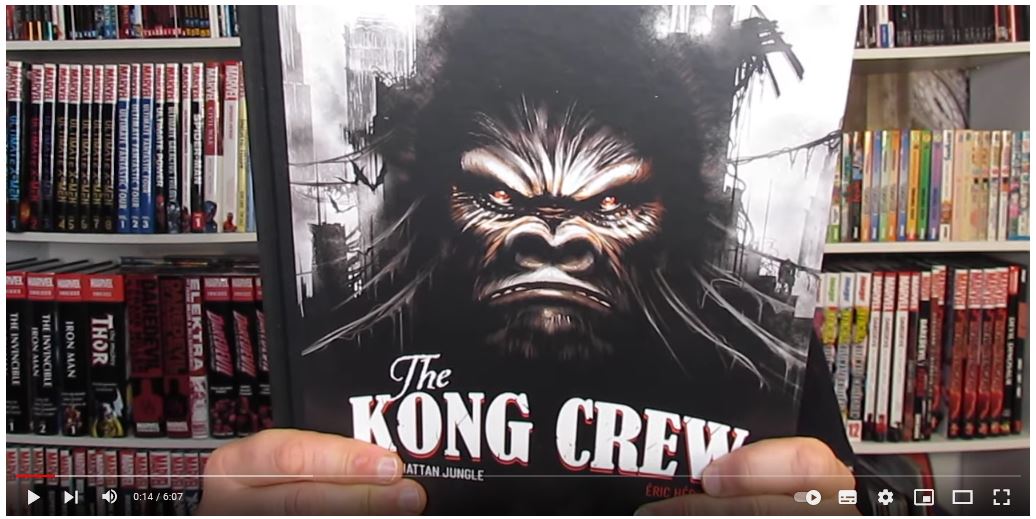 Kong Crew
Characteristics
Large format hardcover edition: 30x42cm
Original cover
Full colour printing of the original black and white pages
4 extra comic pages: The Bronco Story and Kurt the Jerk

Many 

bonus illustrations, research sketches and photos…
152 pages
A large format triptych 80 cm wide
Limited edition to 399 copies, numbered and signed by the author.
Protective package designed specifically to shield and protect the book
ISBN : 979-10-96315-46-8
Price: 149€