Nicolas Nemiri is a French artist, born 1975 in Mulhouse and studied at the Ecole Européenne Supérieure de l'Image (EESI) in Angoulême. He became known in France by illustrating comics written by Jean-David Morvan, such as:  Je suis morte published at Glénat and Hyper, l'Hippo, Annie Zoo and Kuro Kuma published at Delcourt. Now Nicolas works in China, as a cinema concept artist.
The phenomenally talented Korean artist, Kim Jung Gi, considered him the European artist who truly understands the sensibility of Eastern art; as he says beautifully in the foreword of Nemiri's exquisitely drawn book:
"At first, I thought the artist was female, but he was not.
And, at first, I thought he was an Asian artist, but he was not.
He understands the sensibility of Eastern art the best among European artists.
There is a beautiful restraint within the beauty of negative space and effortless brush strokes.
The image lingers on for a long time after you're done looking at his work."
This book is a collection of Nemiri's works drawn between 2011 and 2016, created in colour or black and white, primarily done in ink pen and brush, and all equally vivid with expression and feeling.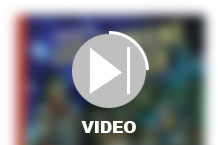 Nicolas Nemiri: