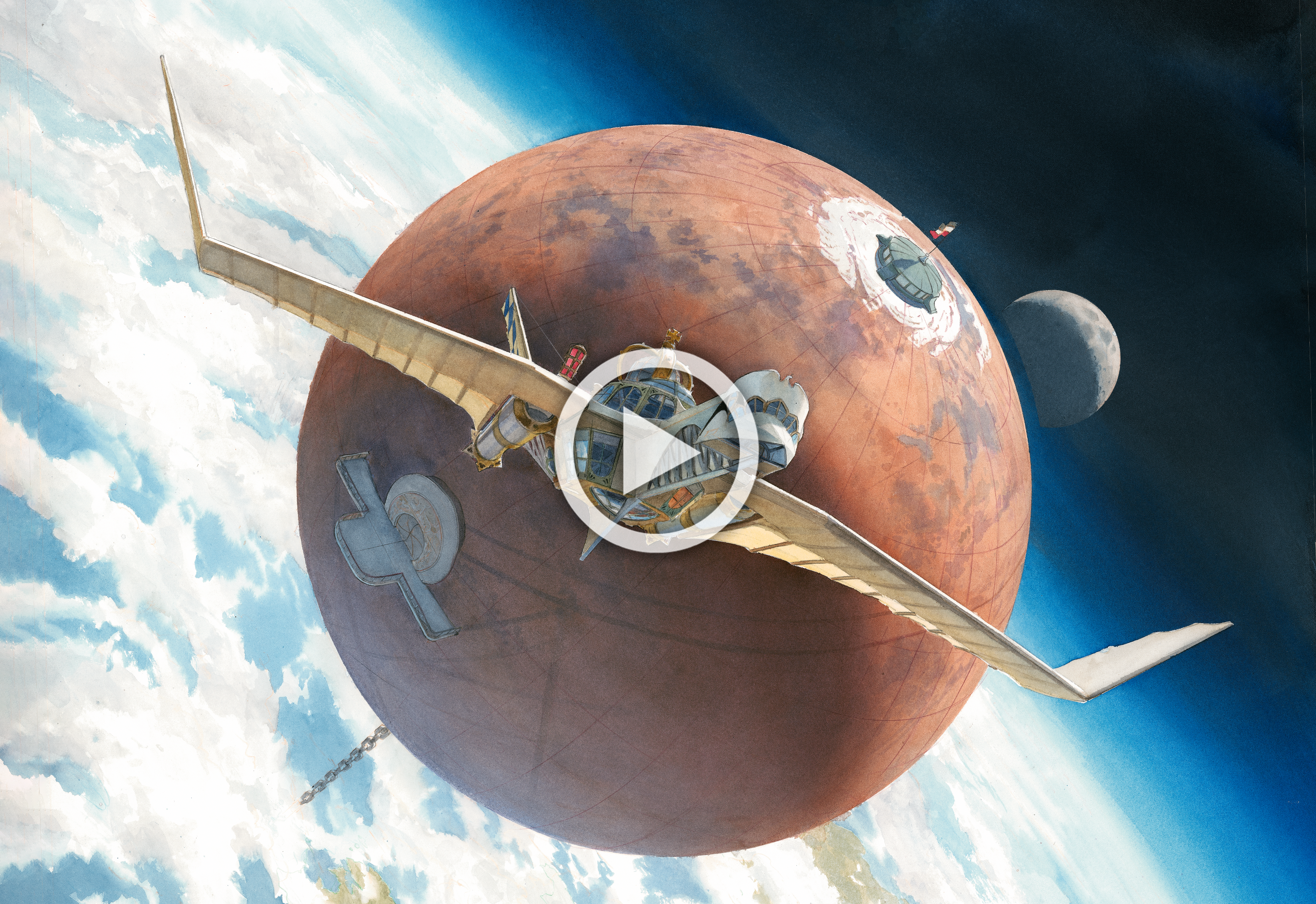 Et si la conquête des étoiles avait eu un siècle d'avance ?
Le Château des étoiles est une série-monde, un univers entier imaginé par Alex ALICE qui, enfant, rêvait d'aller sur la Lune, accompagné des personnages de Jules Verne. À travers deux séries de bande dessinée (publiées avec talent aux éditions Rue de Sèvres), l'auteur nous y conte les aventures de Séraphin et de son père au moment où, en l'an 1868, ils se lancent dans l'exploration de l'éther, sans se douter qu'une odyssée interplanétaire semée d'embûches les attend. Leurs découvertes vont déclencher une course internationale entre les puissances européennes dans laquelle tous les coups sont permis…
Cet univers foisonnant, Alex Alice l'explore depuis plus de dix ans au travers de livres, de journaux, de maquettes, de costumes et accessoires, de grandes expositions ainsi que de centaines de dessins, de peintures et d'aquarelles.
Aujourd'hui, les Éditions Caurette sont fières et ravies de vous présenter deux splendides ouvrages qui vous permettent de vous (re) plonger dans cet univers. Que vous fassiez partie des passionnés de longue date du travail de l'artiste ou que vous soyez sur le point de faire vos premiers pas dans l'âge de l'éther, ces livres sont les guides indispensables de votre voyage vers les étoiles.
L'Univers en 1875 : le projet
Les bandes dessinées du Château des étoiles sont magnifique (et captivantes !) et d'ailleurs, si ce n'est pas encore fait, leur lecture est hautement conseillée :) Mais cette histoire n'est que la partie émergée de l'iceberg, et depuis des années, Alex Alice enrichi son univers de croquis, plans, peintures et autres joyeusetés qui ne pouvaient décemment pas rester dans ses cartons, cachés aux yeux du commun des mortels que nous sommes…
Les éditions Caurette et Rue de Sèvres se sont donc associées pour donner vie au projet un peu fou de publier les archives de l'auteur dans deux magnifiques livres intitulés The Universe in 1875 / L'Univers en 1875 et Prototypes. Ces deux livres ont été présentés fin 2022 à travers une campagne de financement participatif qui a connu un succès retentissant.
À propos du livres
L'artbook The Universe in 1875
The Universe in 1875 est un somptueux artbook qui vous ouvre les portes du Château des étoiles à travers plus de 200 illustrations époustouflantes, des textes immersifs ainsi que des conseils de voyages et plusieurs cartes géographiques.
Si vous êtes déjà un fan, vous en prendrez plein les yeux grâce à des dizaines de nouvelles illustrations qui ont été créées spécialement pour l'occasion. Et si ce sont vos premiers pas dans le monde de l'éther, ce livre, tout droit sorti des presses de l'univers du Château des étoiles, sera votre guide.
À propos de l'artiste :
Alex Alice est un auteur de bande-dessinées et un artiste français, travaillant en France et parfois aux États-Unis. Né en 1974, il a grandi dans le sud de la France et a eu la chance de voyager à travers l'Europe, où il a développé une passion pour les ruines et les châteaux des âges médiévaux et romantiques. Dans Le Château des Étoiles, il s'inspire de Jules Verne et du romantisme du XIXe siècle pour créer un monde d'aventures et d'émerveillement en aquarelle, qui enchantera les adultes comme les jeunes lecteurs. Une exposition spéciale sur cette série a été produite en 2017 par le festival international de la bande dessinée d'Angoulême, présentant 70 oeuvres d'art originales ainsi que des costumes, des accessoires et des maquettes. Elle a été suivie de deux expositions personnelles à la Galerie Maghen à Paris (en 2018 et 2020). Ses œuvres ont été traduites en 19 langues. Les originaux d'Alex sont représentés par la galerie Daniel Maghen à Paris. 
Le mot des éditrices :
Ce splendide livre vous plonge dans l'univers unique d'Alex Alice. Des pépites inédites, telles que des plans d'aéronefs, une visite détaillée de l'Exposition Interplanétaire et des visuels de la gazette, vous attendent.  Vous avez même accès aux différentes étapes du processus de création de l'artiste. Ces magnifiques ouvrages s'adressent aussi bien aux fans de la série du Château des Étoiles qu'aux amateurs et amatrices d'art en général ! Et cet ouvrage est aussi disponible dans un coffret de luxe, avec le sketchbook Prototypes. Habillés de jaquettes aux couleurs de la Bavière de Louis II et logés dans leur écrin, chacun des livres est accompagné d'un tiré-à-part de leur couverture.
À propos de la série :
Retrouvez une belle interview d'Alex Alice par ActuaBD pour la série Le Château des Étoiles !
Rejoignez le groupe Facebook pour ne rater aucune nouvelle sur la série !
Et ici, une interview avec Alex Alice lors de son exposition à la Galerie Daniel Maghen en Octobre 2023 :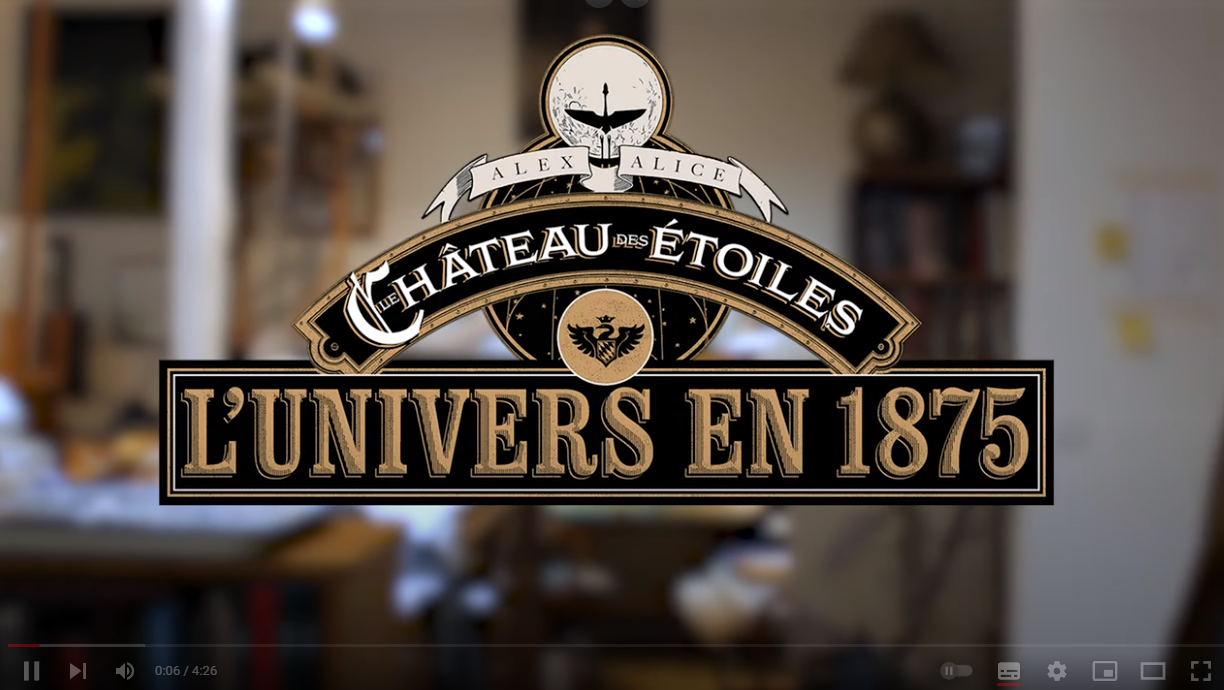 Retrouvez Alex Alice sur les réseaux sociaux :
Instagram
Facebook
Site Internet
Alex Alice est représenté par la Galerie Daniel Maghen.