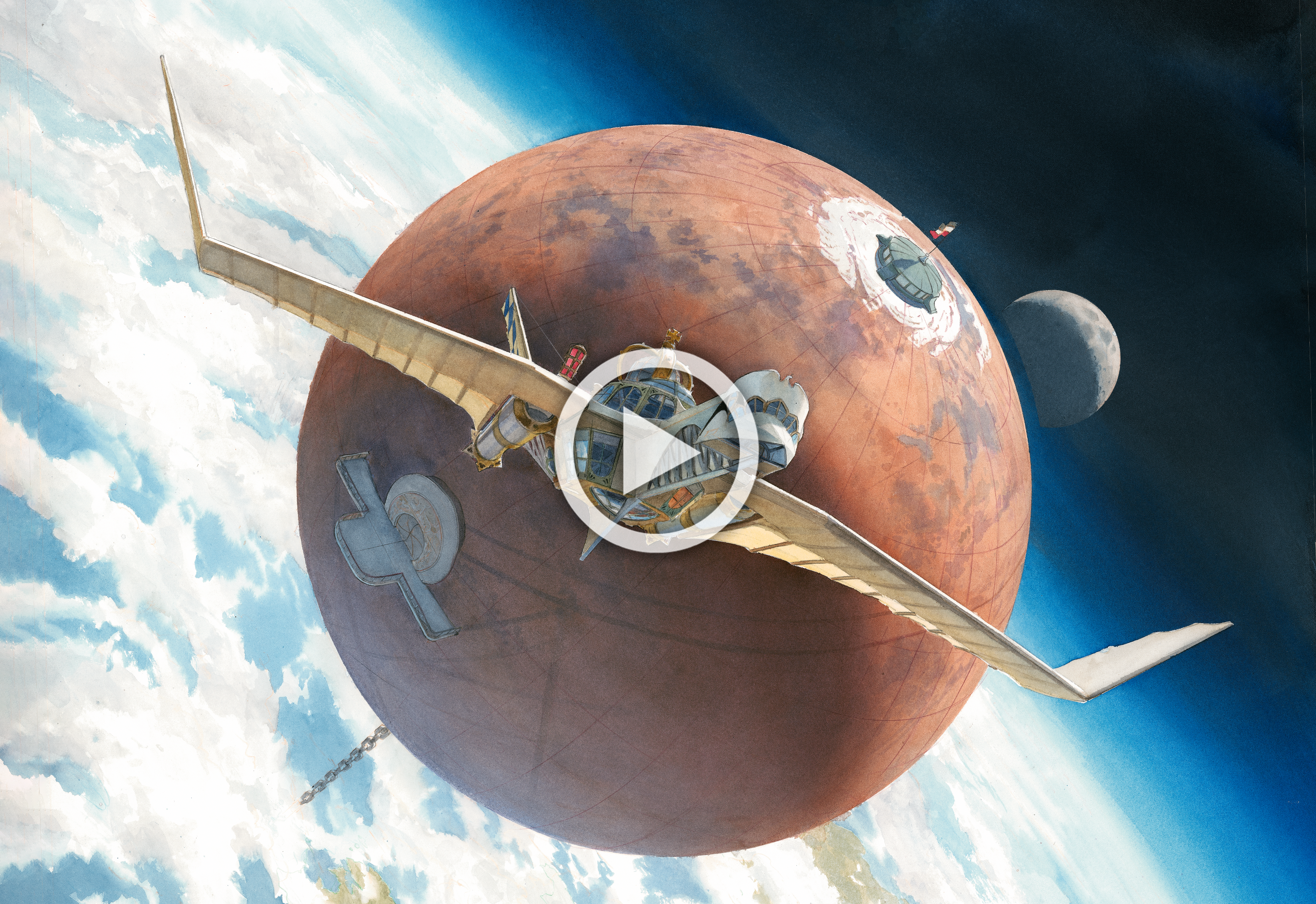 Enfant, Alex Alice rêvait d'aller sur la Lune, accompagné des personnages de Jules Verne... De ces rêves Le Château des Étoiles est né ! Cet univers a été exploré à travers deux séries de romans graphiques, des éditions de journaux, des maquettes, des costumes et des accessoires, de grandes expositions ainsi que des milliers de dessins et d'aquarelles. Il est enfin temps de reprendre l'univers de cet artiste, récompensé de nombreuses fois, dans un coffret deluxe contenant l'artbook, The Universe in 1875, et le sketchbook, Prototypes ! Si vous aimez Jules Verne et les beaux dessins, vous ne pourrez que tomber sous le charme des aquarelles d'Alex Alice (et si l'univers vous plait, vous pourrez toujours lire les bande-dessinées plus tard !).
Retrouvez ici le financement participatif sur Kickstarter !
À propos du coffret et des livres:
The Universe in 1875 est une chance de découvrir ce monde à travers une centaine d'illustrations époustouflantes ainsi que des textes immersifs. Il s'agit d'un splendide artbook qui vous ouvre les portes du Château des Étoiles ! Vous y trouverez les plus belles aquarelles réalisées par le talentueux Alex Alice. Si vous êtes déjà un fan de cet univers, vous en aurez plein les yeux: des dizaines de nouvelles illustrations ont été créées spécialement pour cet artbook! Ce livre, tout droit sorti des presses de l'univers du Château des Étoiles sera votre guide : magnifiquement illustré, il comprend aussi des conseils de voyages et diverses cartes !
Prototypes vous emmènera dans les coulisses du Château des Étoiles. Alex Alice ouvre ses carnets de croquis pour la toute première fois afin de vous faire découvrir en détail son processus de création, de l'écriture à la conception, en passant par la construction du monde et les étapes de la réalisation des illustrations. Le sketchbook, qui est bilingue français-anglais, comprend à la fois des pages de bande-dessinée inédites, ainsi que des dessins conceptuels d'animation, des photos des différents modèles d'aethersuits, et bien sûr, des centaines de croquis !
Ces deux ouvrages seront placés dans un magnifique coffret avec un marquage à chaud doré et deux belles vignettes de chaque côté. L'artbook et le sketchbook en coffret auront d'ailleurs une couverture inédite aux couleurs des armes bavaroises : bleu et blanc !
À propos de l'artiste :
Alex Alice est un auteur de bande-dessinées et un artiste français, travaillant en France et parfois aux États-Unis. Né en 1974, il a grandi dans le sud de la France et a eu la chance de voyager à travers l'Europe, où il a développé une passion pour les ruines et les châteaux des âges médiévaux et romantiques. Dans Le Château dans les étoiles, il s'inspire de Jules Verne et du romantisme du XIXème siècle pour créer un monde d'aventures et d'émerveillement en aquarelle, qui enchantera les adultes comme les jeunes lecteurs. Une exposition spéciale sur cette série a été produite en 2017 par le festival international de la bande dessinée d'Angoulême, présentant 70 pièces d'art originales ainsi que des costumes, des accessoires et des maquettes. Elle a été suivie de deux expositions personnelles à la Galerie Maghen à Paris (en 2018 et 2020). Ses œuvres ont été traduites en 19 langues. 
Le mot des éditrices :
Deux livres splendides dans leur écrin vous plongeront dans l'univers unique d'Alex Alice. Des pépites inédites, telles que des plans d'aéronefs, une visite détaillée de l'Exposition Interplanétaire et des visuels de la gazette, vous éblouiront!  Vous aurez même accès aux différentes étapes du processus de création de l'artiste. Ces magnifiques ouvrages s'adressent aussi bien aux fans de la série du Château des Étoiles qu'aux amateurs et amatrices d'art en général ! Préparez-vous au décollage, le 4 Novembre à 18h (UCT+2) sur Kickstarter !
À propos de la série :
Retrouvez une belle interview d'Alex Alice par ActuaBD pour la série Le Château des Étoiles !
Rejoignez le groupe Facebook pour ne rater aucune nouvelle sur la série !
Et ici, une super critique de Funambule sur Youtube :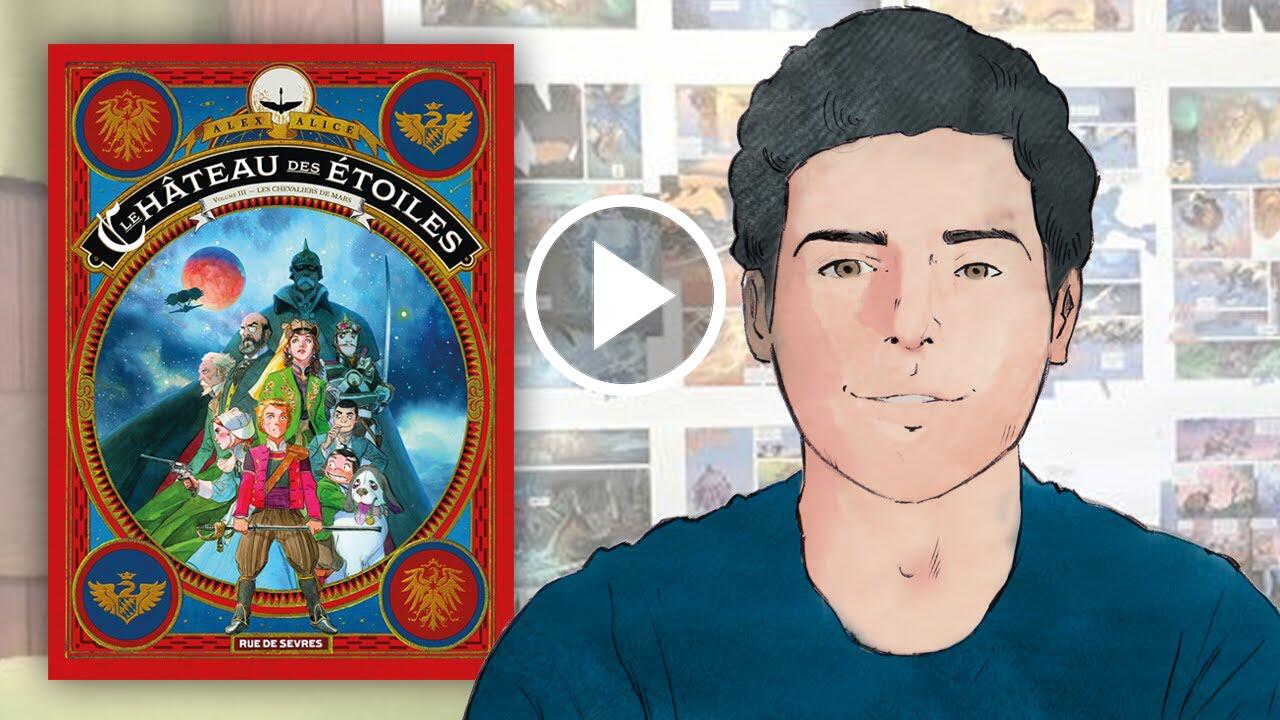 Retrouvez Alex Alice sur les réseaux sociaux :
Instagram
Facebook
Site Internet
Alex Alice est représenté par la Galerie Daniel Maghen.
Cet article est en précommande, l'expédition est prévue pour le printemps 2023.
Merci de noter que si votre commande contient des articles "en stock" ET "en précommande", la totalité de la commande sera expédiée lorsque l'article en précommande sera publié. Si vous désirez recevoir le ou les articles en stock rapidement, le mieux est de passer deux commandes différentes.