The Artist: Andrew Mar
"I've been drawing for my entire life, and always had worlds thriving within my imagination. I started using ink as a young child when my parents gave me lessons in traditional Chinese calligraphy. Some may have found it mind numbing and dull, but I grew addicted to the medium. Over time, the ink brush evolved into the ink pen, and those Chinese characters evolved into fantasy characters. I always make it a goal to participate in communal art challenges such as Inktober and Mermay. It helps provide the fuel of consistent discipline alongside passion.
Ink is a straight-forward, binary medium- black ink and white paper. With only two hard tones at one's disposal, it can be difficult to create subtle transitions and softness. Mistakes become stark, and attempts to fix them usually make it worse. The challenge is part of the appeal. My love for ink has me constantly striving to master the medium, and always eager to create."
The Content:
The pages within this book are a collection of ink drawings of the life of my mind, separated by their realms:
Celestial – the dominion of angels, of elegance and power, who serve to protect their boundaries.
Terrestrial – the mortal lands of warring kingdoms, and those caught between them in forest and sky.
Infernal – a dark world of demons, succubi, dragons, and beasts, all scraping to survive and sometimes, even live. 
Pelagial – the abyss of those who only seek company so sparsely found in the void.
The Book
Like all books that I have created with the previous artists, this one is launching finished and we just want to know how many we should print for you guys. This is why we made this campaign
It has 284 pages of 150g matte paper and is bound in a hardcover with golden hotfoil stamping in the swashes around the title. The format is A5 and the artwork inside is mostly black and white and the book weighs 2 kg.
The Stretchgoals
This project is launched on Kickstarter's website (from august 20th to septembre 19th 2019), and during the campaign, every backers will get the unlocked stretchgoals, even on this website.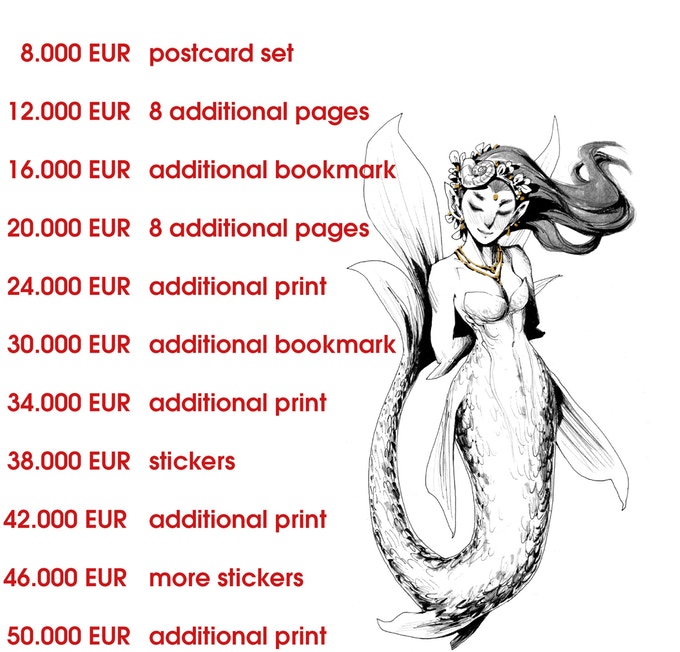 Please note that this is a PRE-ORDER!
The book will be available at the earlier in December 2019.
For any order combining a book in preorder and other books that are already available, you will receive all the books in one only parcel as soon as the preordered book will be published or reprinted.
All the content and layout is finished. The only thing that is missing is the actual printed products for which we are running this campaign.